Muhammadu Buhari Re-elected as Nigeria's President
President Muhammadu Buhari of the All Progressives Congress (APC) has been re-elected for a second four-year term.
The 76-year-old defeated his main rival, former Vice President Atiku Abubakar, with a margin of almost four million votes.
Though there were reports of low-turn out as only 35% of registered voters came out to vote. Also video evidence of violence, destroying of voting materials and stolen ballot papers were reported.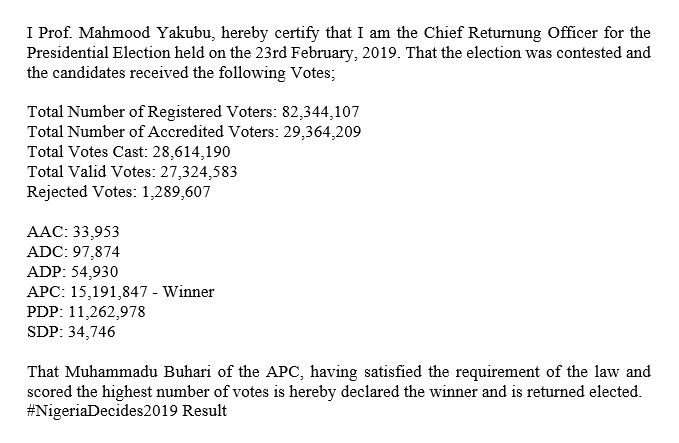 The chairman of the opposition party, People's Democratic Party (PDP), Uche Secondus called the count "incorrect and unacceptable". The party said counting should be stopped, alleging data from voter card readers had been manipulated.
Nigeria is Africa's largest producer of oil with a population of 190 million (c.2007)
Mosque Attack: 49 Dead, More Than 40 Injured As Man Opens Fire On Two Mosques in New Zealand
A total of 49 people have been killed in a mosque shooting in Christchurch, New Zealand, Over 40 injured with 20 in critical condition.
The attacker targeted the Al Noor Mosque in the center of the city and Linwood Mosque, about three miles away
The shooter under the name Brenton Tarrant live streamed video of the attack and posted a manifesto online. He is 28 years old. Just before the attack, an account believed to belong to the gunman posted a link to an 87-page white nationalist manifesto online. The unsigned manifesto is filled with anti-immigrant and anti-Muslim sentiments, as well as explanations for an attack.
In the manifesto, he identifies himself as a white man, born in Australia, and lists the white nationalists who have inspired him.
See photos below
New Minimum Wage In Nigeria Is Now 30k
See what Senator Shehu Sani tweeted.
At least 9 Dead Many Injured As Building Collapsed in Lagos… See Photo and Video
A three-storey building housing a nursery/primary school collapsed in Ita-Faji area of Lagos on Wednesday with scores of pupils and other reportedly trapped.
Eyewitness said Over 50 children have been rescued and 9 bodies where also taken out of  the building. Though rescue agency said they can't put a figure to the number of casualties.
The building is about 30 years and according to neighbours, the building had been marked twice for demolition by the authorities.
Erinoluwa Akinmoladun, son of the owner of the collapsed building, who is also seen assisting in the rescue operations said he noticed the weakness in the structure of the building this morning and alerted his father without knowing that the building was going to collapse.
"I left my father and sisters at home," he said
He said his father had been rescued, but he was not sure if all his siblings had been rescued from the debris.
The cause of the collapse is still unknown. Efforts are still ongoing.
More pics and video below
A boy is pulled out of the rubble of the collapsed school at Itafaji in Lagos Island. Many pupils still trapped under building.🙏🙏🙏#ItaFajiSchool #Lagos pic.twitter.com/dCLdjBwfy2

— Adetutu Balogun (@Tutsy22) March 13, 2019
Additional source: Punch Newspaper