Muhammadu Buhari Re-elected as Nigeria's President
President Muhammadu Buhari of the All Progressives Congress (APC) has been re-elected for a second four-year term.
The 76-year-old defeated his main rival, former Vice President Atiku Abubakar, with a margin of almost four million votes.
Though there were reports of low-turn out as only 35% of registered voters came out to vote. Also video evidence of violence, destroying of voting materials and stolen ballot papers were reported.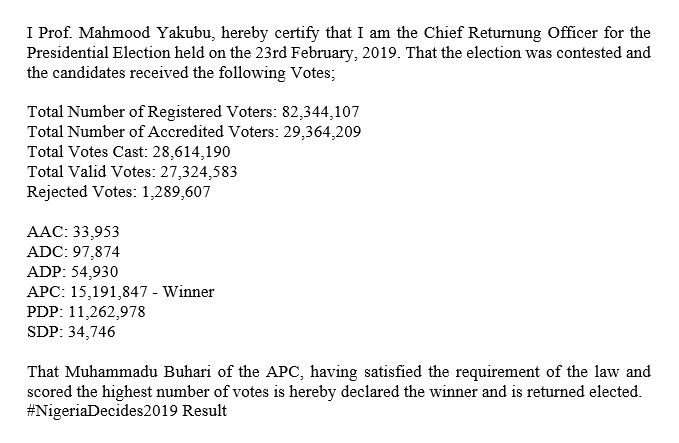 The chairman of the opposition party, People's Democratic Party (PDP), Uche Secondus called the count "incorrect and unacceptable". The party said counting should be stopped, alleging data from voter card readers had been manipulated.
Nigeria is Africa's largest producer of oil with a population of 190 million (c.2007)
Japanese Cargo Ship Reportedly Hit by a Russian Missile Off the Coast of Ukraine
A cargo ship owned by a Japanese firm has been reportedly hit by a missile off the coast of Ukraine in the Black Sea on Friday, injuring one crew member.
According to Japan Times, the cargo ship Namura Queen was damaged and one of the 20 Filipino crew sustained a nonlife threatening injury.
The ship can operate under its own steam and has headed to Turkey, where the damage to the vessel will be assessed, the report said. Ukraine authorities said the missile was fired by Russian forces, following their military invasion of Ukraine earlier this week.
Also a Moldovan-flagged chemical tanker was hit as reported by Reuters.
Patriotism: Two Ukrainian Kids Seen Paying Respect To The Troop [PHOTO]
This emotional and patriotic photo was shared on social media. It captured two Ukrainian kids paying their respect to Ukrainian troops heading to the war front.
True patriotism!
Russia Attacks Ukraine, Citizens Asked To Pick Up Arms And Fight
Russian President Vladimir Putin has launched a military operation in Ukraine, with explosions heard across the country. Weeks of intense diplomacy and the imposition of Western sanctions on Russia failed to deter Putin, who had massed between over  150,000 troops along the borders of Ukraine.
Putin said he had authorised military action to defend itself against what he said were threats emanating from Ukraine.
Ukrainian military has said that they've shot down six Russian jets and helicopters in the eastern region, as Russian troops moved into the neighbouring country's territories. Aircraft and an aggressor helicopter were shot down near the area of the Joint Forces.
The command also said that Ukraine's military units are keeping their positions as "the enemy suffers losses."
Ukranian Defense Minister has asked anyone who is ready and able to hold a weapon can join the Territorial Defense Force.